Grohe Sensia Arena Wall Hung Shower Toilet
Brand: Grohe
Product Code:
Availability:In stock
£1,598.00
£3,168.00
1,598.00
Have a question?
GROHE Sensia Arena.
Enjoy the feeling of lightness and well being that a personalised cleaning routine can bring you. the GROHE Sensia® Arena impresses with innovative functions, such as Skinclean and hygieneclean, that make it the cleanest toilet in the world. Discover the difference it can make to your day.Installation Requirements. Discover a new level of personal care and cleaning with this Japanese style toilet that combines the functions of a toilet and bidet, but with so much extra too. This technologically advanced toilet features two separate self-cleaning spray heads that you can adjust for position, pressure and temperature, with oscillating and massage spray options and a warm air dryer function. Make visiting the toilet a pleasure with features designed for comfort, including automatic seat and lid opening, powerful flush that cleans and covers the whole bowl. Designed to be 100% hygienic and easy to clean, the bidet toilet uses odour absorption to clean the air while advanced ceramic finishes HyperClean and AquaCeramics are anti-stick, anti-limescale and anti-bacterial, banishing 99.9% of germs. The sleek, wall-hung toilet design looks perfectly at home in contemporary bathrooms and its smooth lines leave dirt nowhere to hide. Use the control panel on the side of the seat, the remote control or a smartphone app to control and programme, and let the GROHE Sensia Arena (Part No 39354SH1) revolutionise your daily bathroom routine. View short video detailing the Grohe Arena shower toilet features by clicking HERE.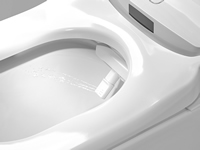 Choose your preferred spray option for great cleaning
GROHE SkinClean technology offers a wide choice of cleaning sprays, including an adjustable rear spray, separate Feminine Shower spray, an Oscillating Spray function for expanded cleaning and a Massage Spray for a soothing experience. The sprays can be adjusted for water temperature, pressure and position, and all spray heads can be exchanged easily for ultimate hygiene.
Numerous user-friendly features for personal comfort
Your personal comfort is assured with a range of thoughtful features to make you feel at home. The Sensia Arena includes a warm air dryer function for fast, gentle drying, and an automatic odour extraction programme that creates an airshield around the top of the bowl to keep your room smelling fresh. Plus a sensor-activated nightlight gives a soft glow to find your way at night.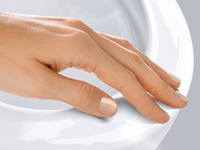 Innovative hygiene features for 100% security
GROHE's HygieneClean features combine to create the cleanest toilet in the world! Two innovative hygiene coatings work together to create an outstandingly clean ceramic. GROHE HyperClean is an exceptionally smooth and hardwearing glaze that resists 99.9% of bacteria, while the AquaCeramics coating creates an ultra-smooth surface that prevents residues and makes cleaning easy.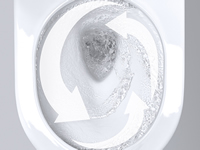 Smart design that cleans the whole bowl
GROHE toilets have a flush that gains extra cleaning power from its unique design. Instead of one water source, PowerFlush uses three water outlets in the bowl to create a vortex of water that cleans every inch of the bowl. Add to that the toilets' rimless design, which means there are no hidden corners for dirt to inhabit, and this promises the most efficient flush for a clean bowl every time.
Easy to control, via the remote control or app

It's easy to select your preferred spray and cleaning options in a choice of simple-to-operate ways. Use the intuitive remote control to adjust your settings, or download the smartphone app to create a user profile that means your shower toilet will remember your personal preferences every time.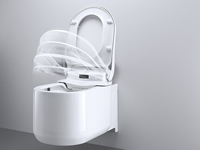 Auto operation for low-maintenance and convenience
Convenience and low-maintenance are guaranteed thanks to automatic features – a sensor automatically opens the lid as you approach, and closes the seat after use and the spray heads are automatically cleaned before and after each use. There is also the option to add sensor-controlled automatic flushing (requires GROHE Sensia Arena automatic flush connection kit 46944000 for the Rapid SL installation system 39112001).
Installation Requirements
A suitable wall mounting frame with integral cistern such as the

 

Grohe Rapid SLX
 If required (optional) you can also add the automatic flush option:

 

Automatic Flushing Set
Connection piping to the sewerage waste system.
A mains water supply of between 0.05 Mpa (05 bar) and 1.0 Mpa (10.0 bar) pressure. 
A fully compliant power source to the seat (in U.K. to BS7671) 
Before Installing, if you have any doubts or require further technical information please call 01442 843120. Click

 

HERE

 

to view a short Video on how the unit is installed.
Key Features toilet
Made from pure white White Vitreous China
RIMLESS DESIGN Technology offers an ultra-hygienic flush solution for your toilet with no hidden rim for germs to propagate.
Wall Hung For concealed flushing cisterns
GROHE Hygiene GROHE antibacterial glazing (SIAA Kokin Japanese standard compliant) and non-stick coating ceramic appliance with Aquaceramics technology
GROHE power flush: rimless wash down jet WC with GROHE Triple Vortex flushing technology 
Key Features seat
GROHE Skin Clean:
2 dedicated adjustable spray arms (1 for anal area, 1 for lady spray)
Separate water way for lady spray
Oscillating spray (automatic forward and reverse motion of the spray)
Pulsating spray for massage
Adjustable spray intensity
Automatic pre- and post-rinsing of spray nozzle with fresh water
Integrated instant heater provides unlimited warm water
Adjustable temperature
Additional functions
Warm air dryer with adjustable temperature
Odour extraction with filter
Duroplast WC seat and lid with automatic opening/close function
Infra-red user detection
Seat control operation
Power switch
Inside bowl night light
Hidden water supply and power supply connection
Remote control
Smart phone app for iOS (Android under development)
Includes:
Manual remote controller with wall-mounted holder
Active carbon filter for odour absorption
Water supply connection set for concealed cistern
Fastening material
Nozzle guard
Technical Specification:
 Power rating and energy consumption
Cable with system plug on device
Pressure 0.05 - 1 MPa (0.5 - 10 bar)
Nominal voltage: AC 220 – 240 V
Main frequency 50-60 Hz
Consumption rating of 850 W. Max. 1300 W
Type of protection IPX4
Complies with EN 1717
Mains Water: Pressure 0.5 ~ 10.0 Bar / Atm 
CE certified
Warranty
Grohe GB, 2 years full parts and labour Warranty
 Once purchased you may register your 2+1 year Sensia shower toilet warranty by clicking HERE

 

and entering your product serial number.
Delivery to a mainland UK address in 2 ~ 5 days £45, Highlands and Islands will take a few days longer and cost £89.95
---
Downloads
Grohe Sensia Arena Quick Start Guide
Grohe Sensia Arena Installation Manual
Our Support
Unlike many other retailers we can offer excellent support.
Out experienced team member are always happy to address any pre-sale questions you may have. Do not hesitate to contact us if you not sure about out product technical requirements or simply you want to find out more about product features.
If you have any doubts about product suitability or installation please call 01442 843746
Our support doesn't stop after the purchase has been made.
You can download installation guides form our product page, watch videos or call between 9am - 5 pm and ask for technical support team. Out of hours email us support@bidet-toilets.co.uk 
Delivery
Delivered in 2~7 working days from receipt of order dependent on your location, There is an additional charge of £39.95 to mainland Europe and for areas in the U.K.  considered "Remote" by our courier.
Remote area an mainland Europe
Channel Islands, Isle of Man, Isle of Wight, Scilly Isles, Highlands, Northern Ireland, Grampian, Scotland Offshore Islands and post codes:
AB10-56,
IV1-20,30-32,36,40,52-54,63,21-23,26-27,40-56,
HS,
KA27-28,
KW1-17,
PA20-25, 34,40-49,60-78
PH49-50,20-44,
PO30-41
TR21-25,
ZE